KES 16,500.00
APC Easy UPS 1000VA 230v
Maximum Configurable Power:600 Watts / 1kVA
Output Connections:(4) Universal receptacle (Battery Backup)
Output Frequency (sync to mains):50/60 Hz +/- 1 Hz Unsynchronized
Input frequency:50/60 Hz +/- 5 Hz Auto-sensing
Input voltage range for main operations:170 – 280V
Topology:Line interactive
Transfer Time:6 ms typical and 10 ms maximum
Lead-acid battery
Recharge Time:8 hours typical recharge time
Battery Life:3 to 5 years
Control panel:LED Status display with on line while on battery
Audible Alarm:Alarm when on battery; distinctive low battery alarm, overload continuous tone alarm
Net Weight of the UPS:7KG, Shipping weight is 6.0KGs
Warranty:2 years repair or replace Standard warranty
APC Easy UPS 1000VA 230v
Compare
APC Easy UPS 1000VA 230v
APC Easy UPS 1000VA 230v has a Flexible design for both high and low powered devices. Capable of powering low power devices such as your modem, router, or VOIP as well as high power devices such as PCs, and gaming consoles
APC Easy UPS 1000VA 230v provides power protection for unstable power conditions, ensuring consistent and reliable connectivity at the most critical moments.
Includes: Documentation CD, USB cable, User manual
Automatic Voltage Regulation (AVR)
APC Easy UPS 1000VA 230v automatically steps up low voltage and steps down high voltage to levels that are suitable for your equipment.
Maximum power output 1000 VA/600 W
4 x universal, multi-socket battery backup outlets
Reliable surge protection – protects your valuable electronic devices against damaging lightning, surges and spikes
Cold-start capable
APC Easy UPS 1000VA 230v Provides temporary battery power when the utility power is out.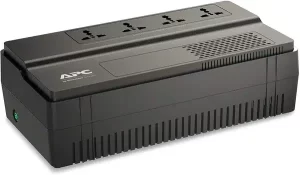 LCD graphics display
Text and mimic diagrams that display modes of operation, system parameters and alarms.
Pure sine wave output on battery
APC Easy UPS 1000VA 230v Simulates utility power to provide the highest degree of compatibility for active PFC (power factor corrected) servers and sensitive electronics.
Includes: APC Easy UPS 1000VA 230v APC Back UPS BV, user manual
1 Year Warranty